Home >
Stages of Hair Loss in Men
Stages of Male Pattern Baldness
Hair Loss Washington, D.C.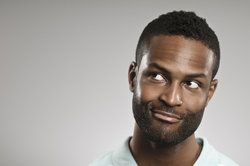 Before you can effectively treat hair loss, you must understand its progression. Though many factors can lead to hair loss, the most common cause is androgenetic alopecia, or "male pattern baldness." Also known as AGA, male pattern baldness accounts for nearly 90% of hair loss cases in men in the United States. Understanding its stages can help you spot the early signs of hair loss, and help you know when to seek effective hair loss treatment at our Washington, D.C. office. Contact our practice today to learn more.
What is Male Pattern Baldness?
As many men know, male pattern baldness is a hereditary trait. Some of the patient's hair follicles become extremely sensitive to the male sex hormone, DHT (a derivative of testosterone), which shrinks hair follicles into nonexistence, eliminating hair growth in certain areas of the head. As the name suggests, male pattern baldness involves hair loss in well-defined patterns, or stages. Since hair transplants rely on a viable donor source, early hair loss detection and treatment offers the most favorable results.
Stages of Hair Loss in Men
Receding Hairline

The first stage of hair loss in men is a receding hairline. The patient still has a full coverage of hair, and plenty of donor hair for transplantation surgery.
Generalized Frontal Thinning

The next stage of male pattern baldness is generalized frontal thinning. The patient's forehead seems larger, and hair at the head's crown begins to thin out. The patient still retains plenty of donor hair for transplantation surgery.
Frontal Area & Crown Balding

The patient's forehead eventually becomes further exposed, and the crown area on the top of the head begins to show a bald spot. The patient still has sufficient donor hair for transplantation surgery.
Top of Scalp & Crown Balding

The balding frontal area and the balding crown area grow closer together. There is not much hair left on top of the head; however, the donor area is still thick and ample enough for hair transplant surgery.
Extensive Hair Loss

The patient has very little hair left on the top, front, and crown of the head. Hair transplantation surgery is still a viable hair replacement option, but may not be for much longer.
Severe Hair Loss (only rim of hair remains)

At this point, hair loss has progressed far enough that hair transplant treatment may not be an effective option anymore. Even with hair transplantation surgery, the patient might not possess enough donor hair to create a satisfactory result.
Understand and Treat Hair Loss Today
Once you notice that your hair is thinning or balding, you should seek an appropriate treatment as soon as possible to maximize your chances of restoring a full head of hair. After the first two stages of male pattern baldness, the hair loss is significant enough to be easily noticeable. If your hair is losing its density and vitality, and you would like to learn more about hair loss solutions to regain your confidence, contact us at our Chevy Chase, Maryland location today.